Help us send local youths on a Moment of Peace Adventure
Our mission is to send youths 18 and under who have a severe physical disability, or a life threatening illness, on a hunting or fishing adventure. MOPA appreciates all private and corporate donors who wish to help us on our mission.
RV Sponsorship Form
This form is for businesses & companies that would like to sponsor the RV. Your logo will be added to the back or sides of the RV if you wish to sponsor. Please fill out the form as completely as you can. This is a first-come-first-serve basis because of the limited space on the RV. Sponsorship is a minimum donation of $500.00, and your company will be on the RV from June 1, 2019 to June 1, 2020. Please send your company logo to momentpeacead@gmail.com and send a check payable to Moment Of Peace Adventures to P.O. Box 775 Oley, PA 19547. In the memo write "RV Sponsorship". Thank you for your interest in RV sponsorship!
Your company logo will be added to the back of the Moment Of Peace Adventures RV!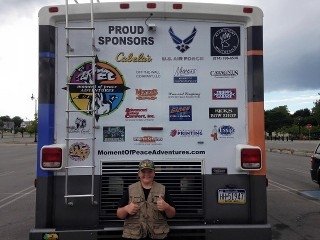 Thank you for Donating:
VanGuard Charity
Savage L&B Dodge
Savage Kia
Mohnton Fish & Game
Liberty Fire Company
E.K. Services INC.
Shippack Fire Company
Rollgiving
Paul W. Essig INC.
Deka
Z-Weldco INC
Klous Taxidermy
Landis Creek Golf Club
True Country Whitetails
The Wilderness
Huey's Taxidermy
Cabela's
Rich Bell & Adam Oaks Processing
Trupp's Auto Sales
Hutts Glass Co.
Mountain Springs Camping Resort
Mckesson Foundation
Glass & Wesner Auto Body
Northkill Rod & Gun Club
Trace Pheasentry
Perry Gun Club
Saucony Creek Brewing Co.
Mertztown Rod & Gun Club
Kutztown Rod & Gun Club
Mohnton Fish & Game
Good Fellowship
Stonersville Fire Company & Social Clubs
Lion's 14P Club
Exeter Lion's Club
PBM Lion's Club
Avon Grove Lion's Club
Blandon Lion's Club
Daniel Boone Rod & Gun Club
Creative Minds
United Way
Reality Wise
Funky Frets LLC.
Tonya's Nails
Premier Appliances
Oxford Medical
Everything Postal
Mast Roofing
Reading Royals
Morgan Financing
Pops of PA LLC
Advanced Indoor Comfort
Weller's Woodcrafting
Lion's Club of Central Berks