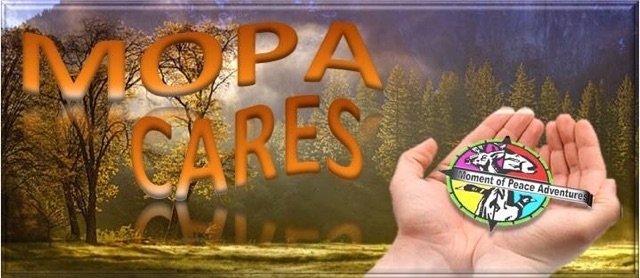 MOPA CARES is a program offered to each of the MOPA Families that have gone on an Adventure. This is just one more way that Moment of Peace Adventures sets itself apart from others. Our MOPA CARES PROGRAM reaches out to businesses, inviting them to help the MOPA Families however they can. Since most of these families are going through so much at this time in their lives, along with mounting medical bills and travel expenses. We are asking businesses to join us in helping these families.
How the Program Works:
Each participating family will submit a photo of their family which will be posted on this page and can be used by the vendor for verification that the family is a participating MOPA Family. Below you can see a list of the participating vendors and what they are providing, listed by State, Category, Name, Address, Phone Number, with a link to their website.
Click here if you are interested in joining the MOPA Cares Program!
We would like to give a special thank you to our first business, Leesport Diner, who is giving 20% off the bill of a MOPA Family for their next visit!
| State | Catagory | Name | Address | Phone# | Providing | Link |
| --- | --- | --- | --- | --- | --- | --- |
| PA | Food |   |   |   |   |   |
|   |   | Leesport Diner | 5407 Pottsville Pike Leesport PA 19533 | 484-277-7114 | 20% off Bill | http://leesportdiner.com |
|   |   | Cristina's Family Restaurant & Pizzeria | 500 Hoch Rd. Fleetwood PA. 19522 | 610-944-3200 | 20% off Bill, excludes specials | https://www.facebook.com/Cristinas-Family-Restaurant-113982788633334/ |
|   |   | ANDALI'S FAMILY RESTAURANT & PIZZERIA | 40 S Centre Ave, Leesport, PA 19533 | (610) 926-5507 | 20% off Bill, excludes specials | http://www.andalisfamilyrestaurant.com/ |
|   | Auto |   |   |   |   |   |
|   |   |   |   |   |   |   |
|   |   |   |   |   |   |   |
|   | Lodging |   |   |   |   |   |
|   |   |   |   |   |   |   |
|   | Entertainment |   |   |   |   |   |
|   |   |   |   |   |   |   |
|   | Services |   |   |   |   |   |
| MA |   |   |   |   |   |   |
| NJ |   |   |   |   |   |   |
| DE |   |   |   |   |   |   |
|   |   |   |   |   |   |   |
|   |   |   |   |   |   |   |